Vermentino's major turning point
Written by Andrew Eddy for Racing.com
The Nicconi story sometimes goes through the mind of Mark Pilkington when deciding on whether to geld a wayward yet expensive colt, but still, he firmly believes connections have opted for the right choice with the unbeaten Vermentino.
Vermentino, who is an odds-on favourite to extend his unbeaten sequence to four at The Valley on Saturday, was cut after he won his maiden at Hamilton in December 2021, as he was becoming more than a handful to work with.
"He'd caused a bit of angst – he was not altogether uncomplicated, put it that way," said Pilkington of Seymour Bloodstock, who part-owns the four-year-old.
"He was very cantankerous. We tried to keep him a colt, but in the end he had to be a racehorse. "After his first win, they had a lot of trouble floating him and the like, so we made the decision and the owners have been very patient and hopefully it all pays off in the long run."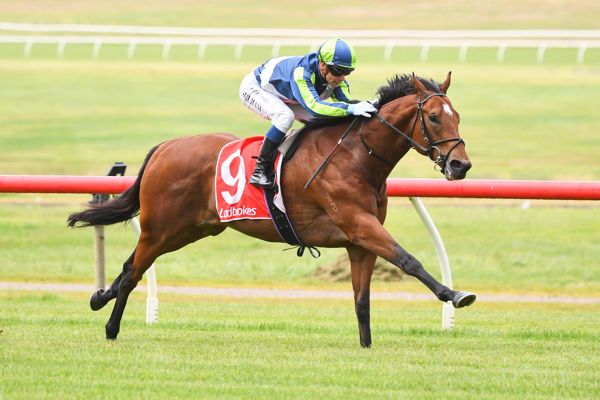 Vermentino (Image - Racing Photos).
In his time in racing, Pilkington has seen any number of high-priced colts never meet their racetrack potential because they were kept as entires. With the very odd exception.
In his early days, the Group 1-winning sprinter Nicconi had also been increasingly difficult to handle as a colt. 
"His gelding operation had actually been booked," Pilkington said. 
"Then, just before, (owner) Peter Devitt rang Bim (Gary Fennessy, foreman at Lindsay Park) in a sort of last hurrah and Bim said, 'he's bloody good, Peter' and they gave him another chance."
The ramifications of such a cut for Nicconi would have been huge as, obviously, his most famous son Nature Strip would never have been born. Nor would his other 23 stakes winners.
"But that story is very much in the minority," Pilkington said.
Vermentino, a son of Extreme Choice, was on Friday rated a $1.55 chance to score at The Valley, where it is hoped he can continue to establish himself among the next wave of quality sprinters when he rises from BM70 class to a BM84.
Pilkington said some good judges saw the colt at the sales and recommended Seymour Bloodstock get involved.
"Louis Le Metayer, who used to work at Lindsay Park, sourced the horse with (bloodstock expert) Will Bourne and he bought him for us at the Sydney Classic sale," Pilkington said.
"It was a bit of money ($210,000) at the time because he is a very good-looking horse."
Vermentino, who is named after a wine grape variety, is a very much a jump and run sprinter, who has enjoyed soft, on-pace wins at both runs this campaign at Sandown Lakeside.
"All the form has worked out well around him and hopefully he can work his way through the grades and become a nice sprinter," Pilkington said.
"It's a reasonable jump (in class) but the Maher stable picked this race over a race at Flemington on Sunday as they figured this was a more suitable race for him.
"If he gets through that race well, hopefully, we'll have another one in another few weeks and then maybe a spell and some time to think."
[31/12/2022]
Previous
Who is the best stallion for your mare?
Video