Top class High Chaparral colt for Ron and Judy Wanless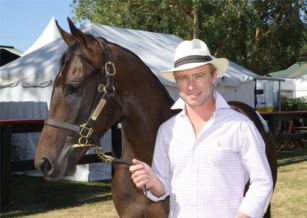 Sydney agent Louis Le Metayer is keen on quality first foals at yearling sales, even at $150,000 over budget.
Le Metayer went to $550,000 on day two of the New Zealand Bloodstock Premier Sale in Karaka for a High Chaparral-Alagant Satin colt offered by Curraghmore Stud.
Le Metayer says it's worth taking a risk on first foals as many good gallopers in recent years were first foals.
"Black Caviar was a first foal, Redoute's Choice was a first foal," Le Metayer said.
"He's by one of the best staying stallions in the southern hemisphere, he's got an aura of class, he's got a stallion's head, he's got huge nostrils, he's just a fabulous, athletic horse. I just fell in love."
Le Metayer did not have a client when he arrived at Karaka but managed to convince Queensland businessman Ron Wanless to buy the colt.
"The instructions were $400,000, but we got caught up in the excitement of auction, I guess," he said.
"He said `just check with me after $400,000'. Everything's good."
[06/02/2014]
Previous
The pursuit of top horses continues in Europe this spring.
Video
The logic for gelding horses !
Video