The beauty and the beast all in one!
This Magnus - Mizzna filly is undoubtedly one of the very best yearlings that I have seen all year at the sales. 
The feedback from Ciaron Maher and David Eustace has very much reinforced our belief in this filly.  Her combination of strength, athleticism and willingness will make her a fast racehorse.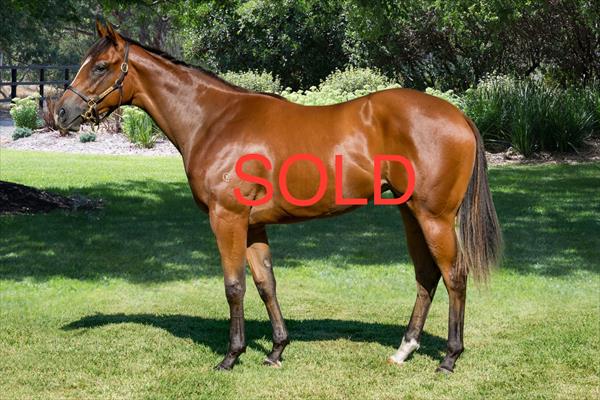 I have secured my favorite filly in the sale and here are 12 reasons why you should get involved if you can. 
1.   An exceptional athlete with a huge girth, a powerful hindquarter, an effortless action, and a bomb-proof attitude.
2.   Bred by one of the best breeders in the country, Robert Crabtree who actually bred her sire: MAGNUS as well as Miss Promiscuity, Bella Martini, Catchy, Scandiva, Missy Cummings, Mizzy, Sheidel, Upbeat, Arctic Flight, Gold Standard, Zedrich Gybe, and many others... 
3.   Sold by Blue Gum Farm who is the biggest source of stakes winners at Melbourne Premier for the last 10 years.
4.   Magnus is on fire, having sired the first Gr1 winner of the year -STREET OF AVALON in the CF Orr stakes 1400m.
5.   Bred on the Danehill / Sadlers Wells cross which has produced 171 Gr1 winners world-wide. Yes, that is right 171! 
6.   MONTJEU is the broodmare sire of 10 Gr1 winners world-wide and the cross with Danehill has produced 13 Gr1 winners.
7.   To be trained by the Ciaron Maher team, who have 17% winners to runners this season.
8.   An early foal who looks like a real early 2yo. 
9.   Half-sister to a stakes winner which provides residual value.
10.  VOBIS qualified.
11. Impeccable vet report.
12. Purchased by 2 excellent judges!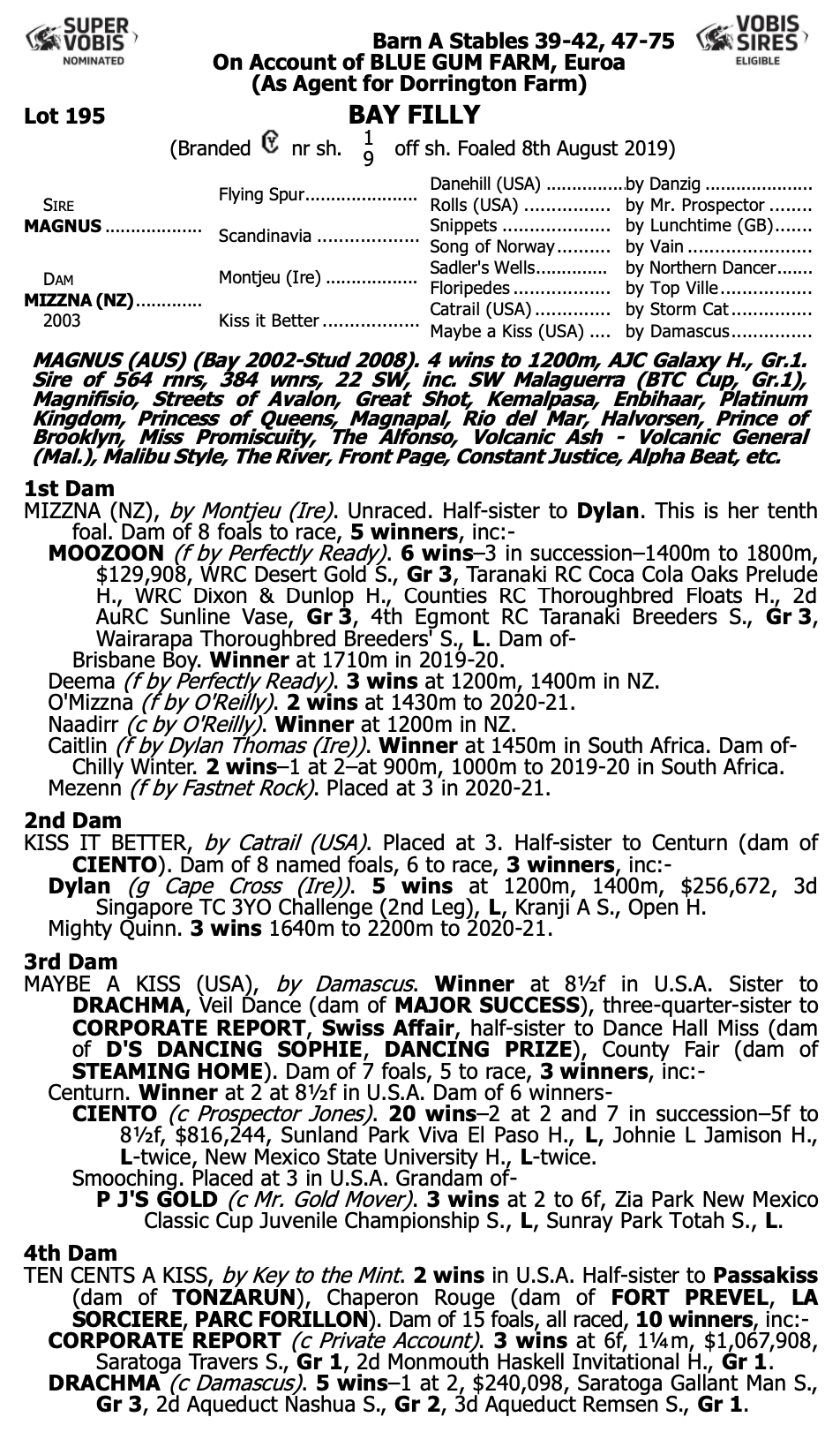 Ciaron Maher talking about the Magnus Mizzna filly
Latest stats on MAGNUS 
www.arion.co.nz 30/04/21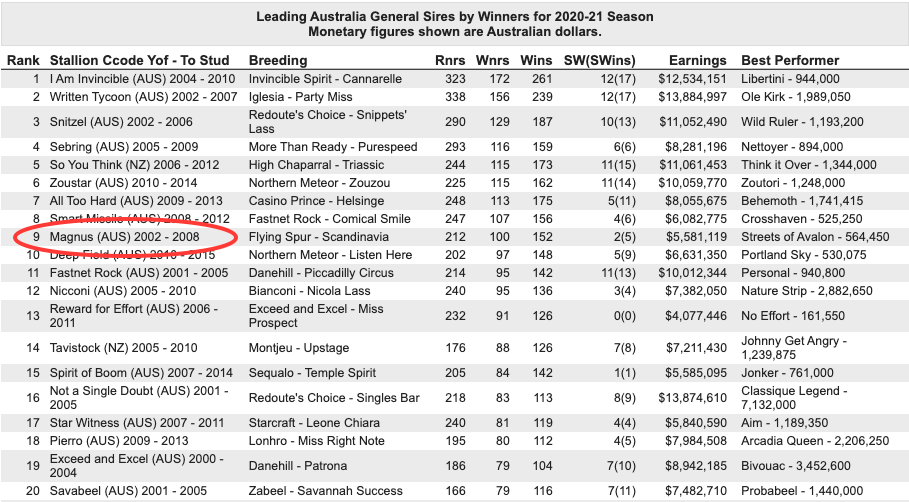 Stable update 5th of June
Stable update 12th of June
Stable report 18th of June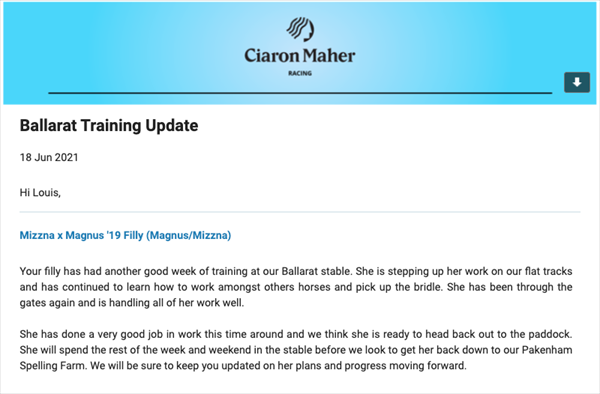 Stable update 22 June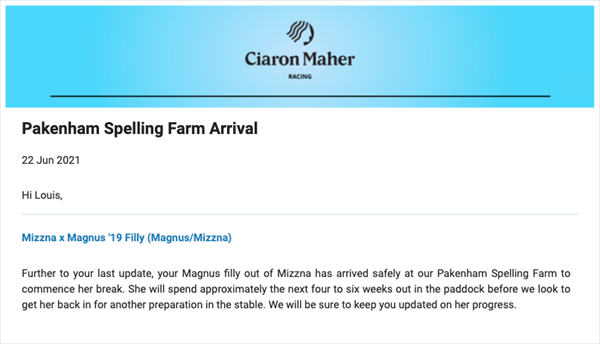 ---
Stable Update 26 August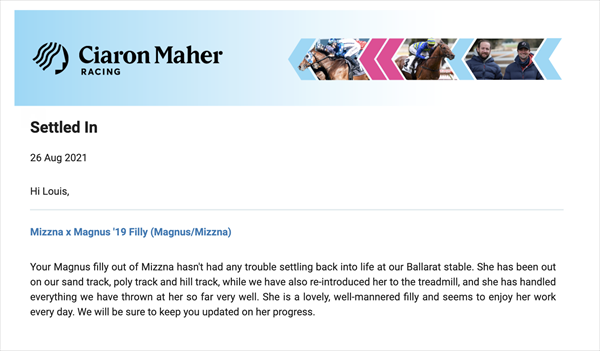 Astute Bloodstock doesn't charge ongoing management fees and there is no mark-up on the purchase price or the ongoing cost. 
We just charge a 5% commission on the purchase price. 
Enquire about this horse
The logic for gelding horses !
Video